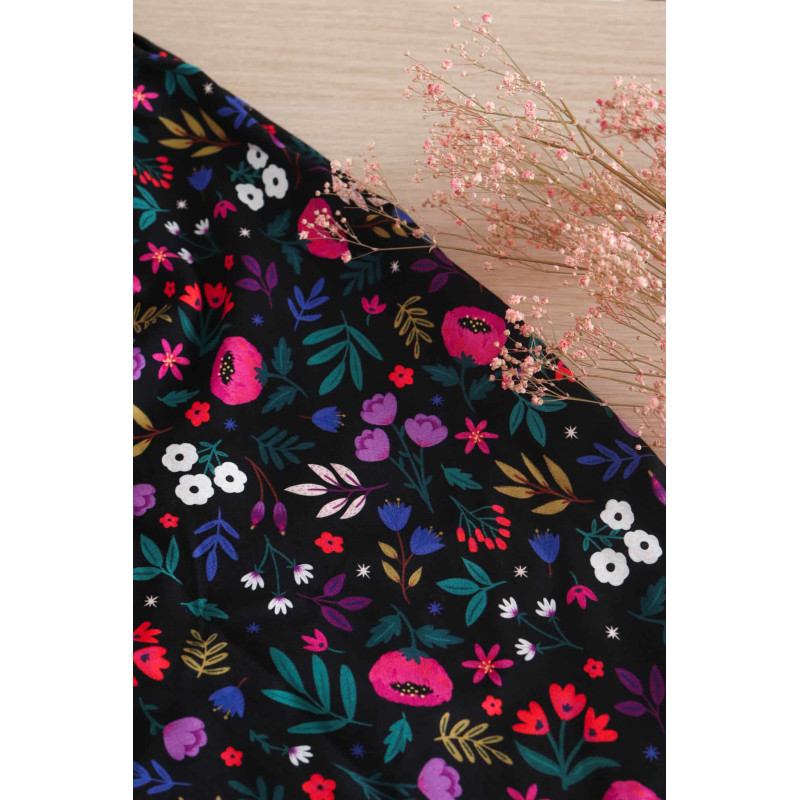  
Lise Tailor - Nuit Fleurie Viscose
Lise Tailor - Nuit Fleurie Viscose
Composition: 100% Viscose FSC and Oeko - Tex
Width: 140cm/55in
Weight: 135 gsm 
Drape: Fluid
Opacity: Opaque
Pattern: Non-Directional
Care: Machine wash 30°C (86 °F) with soft soap, followed by a gentle spin cycle (no dryer)
Fabric is sold in half meter increments, anything above 0.5 meters will be sent as a continuous length. For example, if you require 1 meter you'll need to add 2 to your cart.
We try to provide the most accurate photos of the fabrics, but due to variations in monitor screens colors may differ to original fabric.
Brilliant flowers with multiple bright colors in the darkness of the night, this is our definition, our interpretation of a flowery night / Nuit Fleurie. A strong pattern where darkness and light mingle like in a dream where the colors take on radiance in the dark night. Blue, green, fuchsia, white, red, purple… form a marvelous harmony in a magical world. Between the flowers and the foliage, small stars are discreet to remind us that this is only a dream.
This motif is worn on everything and everywhere; from the blouse we love in winter, to the long party dress and the lining of a jacket. The colors of this viscose allow all combinations for its handmade dressing room.
Be careful, when washed, viscose often shrinks by around 5 to 10%. I therefore recommend that you wash your fabric before sewing it. Be sure to use microfiber needles to sew this fabric in order to preserve its tight weave and not risk damaging it.